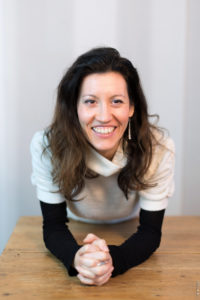 I am Olga Esteban.
Medecine woman. Alchemist.
Dancer, choreographer, coach, dance teacher and body worker. Today, I develop my personal path Transcendanse by leading two parallel paths:
One of artistic creation and interpretation, in pieces that unify Art and Awakening.
Another one which embraces pedagogical and therapeutic skills, where i guide the others towars the release of the memories of the physical and subtle body which block the blossoming of the Being.
I have participated in dance/ theater/ movement projects, as performer, coach and assistant director. Since my teenage, I trained in contemporary dance and performing arts specializing in the theater of movement (Lecoq technique) in Spain. After working in theater and film, I focused on finding new ways of creation using movement to implement the various tools i had been working since my childhood: physical theater, contemporary dance,  improvisation, acrobatics and voice.
In 2002 I discovered Ashtanga Vinyasa Yoga which I practiced for several years together with meditation, Kundalini and Acroyoga. In 2007, I created my own style of Dynamic Yoga, based on the Vinyasa style offering classes and whorkshops for 10 years.
In 2009 I started my training in Reiki Usui Tibetan, followed by metamorphic massage, reflexology and the akashic records (The journey of Soul). In 2011 I attained the Usui Reiki Master in Madrid, Spain.
The "Moon Mother" initiation has reinforced my nature as Woman and i've been guiding for 4 years encounters "Between Women" reconnecting with the Sacred Feminine. And the Amaranta methode has fortified my intuitive and kinesthesic abilities in relation to the subtle and invisible world.
In 2011, curious and eager of new experiences, I moved to Belgium where I've discovered others forms of free dance. This same year, I meet the native american medicine men an women whom i do my first Vision Quest in 2015. This work strengthens deeply the conexion to my body, to the Earth, the cycles of nature and my own cyclical nature.
Then health problems ask me a big break of regeneration, integration of my experiences and rest.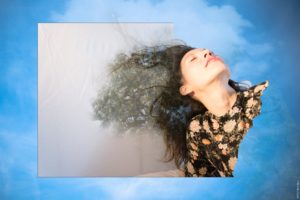 In this time, I begin to practice transcendental meditation and i accompany elder people and Alzheimer's, through conscious presence and dance, in rest houses. The innate wisdom in my body blossoms and i share it freely…
All this unfolds my way of dancing and increases my kinesthetic abilities that I put at the service of dance.
My intuition, anchored and deep, is also serving others, transmitting a path of awareness and awakening to connect the Fullness of who we are, through listening to the body and confidence in his wisdom.
And then there is my voice … powerful, that I always felt "too" powerful … and which, as an extension of my body, began to refine over the years to make way for this power with delicacy.
So, with this fusion of depthness and finesse, the song that emanates from my voice also puts itself in service of those who listen in presence bringing them to the transcendence.
Enregistrer