« Encounter and Pas-Sage:  We have come to learn to love and die  »

Work in progress in colaboration with Claudia Nunes.
First work in progress presentation: 18 march 2017 at Try Art Cafe at Céllule 133 at 20h.
Second work in progress: 19 may  2107 at Espace Catastrophe at 19h.
Presentation of the project: 25 may 2018 at Cultural center Wolubilis at 19h.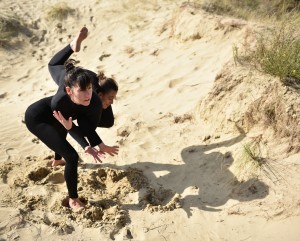 « Through the Chrysalis »
Presentation on spring 2016.
"Through the Chrysalis " shows a scenography without elements, just the presence of movement, music, lights and shadows. The play has a solid structure which allows the improvisation of differents states phase per phase , what makes the show alive and always in relation to the present moment.
Chrysalis: intermediate and larval phase in the development of certain insects that undergo complete metamorphosis. A rebirthing.
Coregraphy and interpretation: Olga Esteban.
Composition and live music: Robn Scott Fleming.
3 performances: Friday 15 april, 13 may and 10 june at 20.30h.
3 workshops "Trans-en-dans" with live musique : Saturday 16 april, 14 may and 11 june from 14h to 17h.
Reservations:
online: http://www.demarkten.be/search?search=trans+en+dans
telephone: 02 550 19 18
mail: demarkten@demarkten.be